Directions
Simply apply Lesco Moisture Manager by attaching the bottle with hose-end sprayer to your garden hose, it's that easy. After you apply, rinse it off the foliage and into the soil, then water heavily enough to carry product down to and throughout the root zone. This allows Hydretain to attach to your roots and begin to manage your moisture and keep your plants and turf alive and healthy.
Each application reduces watering for up to 3 months. For additional moisture management, spot treatment of isolated dry patches or additional protection during prolonged hot, dry conditions, Hydretain may be applied at rates up to 5 times the following application rates, either as a single application or in multiple applications. (Always rinse Hydretain off foliage and flowers and into the soil where Hydretain is designed to function.)
Lawns: Soil should be wet to moist (but not saturated) before applying Hydretain. Water thoroughly the night before or a few hours before applying. Through hose-end sprayer, 1 quart treats 2,500 to 5,000 square feet (depending on desired watering reduction). Immediately after applying, water thoroughly, rinsing Hydretain down into the root zone, where it is designed to function. (Approximately 1/2 inch of water is needed.)
Trees, Shrubs and Individual Plants: Through hose-end sprayer, apply enough Hydretain to thoroughly saturate the soil throughout the root zone.
Large Planters, Flowers and Vegetable Gardens: Through hose-end sprayer, apply Hydretain around plant root zone at a rate of 1 quart of concentrate per 1,000 square feet.
Potted or Containerized Plants: Through hose-end sprayer, apply enough Hydretain to thoroughly saturate the soil throughout the pot or container. (For indoor plants, fill jug or watering can from hose-end sprayer or mix 2 ounces of concentrate with each gallon of water.) Re-watering Hydretain Treated Plants and Grass: Hydretain extends watering requirements by managing excess moisture. Therefore, for maximum effect, it is important to water thoroughly when re-watering Hydretain-treated areas, providing excess subsurface moisture for Hydretain to manage.
Hydretain is biodegradable. Re-application every three months allows Hydretain to build up in the soil profile, providing even greater drought resistance with each application.
For additional options, be sure to browse our Lesco Lawn Products and Lawn Care collections
Shipping Details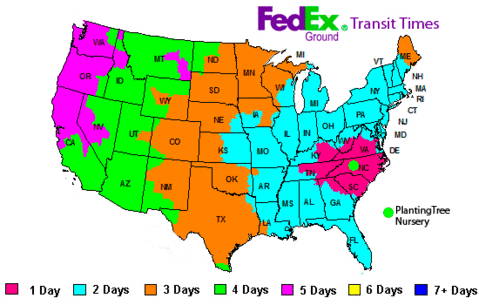 Shipping transit map specifies an average amount of days after your order has shipped.
| | |
| --- | --- |
| AMOUNT OF ORDER | SHIPPING COST |
| | |
| | |
| | |
| | |
| | |
| | |
| | |