Yellow Hibiscus Bush
Hibiscus rosa-sinensis
Description
Bringing the tropics to your garden has never been easier when it comes to the Yellow Hibiscus. This Hibiscus bush is a beautiful, exotic evergreen shrub. Other common names include the Chinese Hibiscus and Tropical Hibiscus. It can range from different shapes and sizes depending on how they are pruned. From bushes to braided trees, the hibiscus can take on different forms to accommodate your special tropical garden needs. Gorgeous, trumpet shaped blooms cover the evergreen foliage with flowers reaching up to 6 inches in diameter. Blossoming in an assortment of colors, the Hibiscus can have hundreds of exotic combinations.

The Yellow Hibiscus loves the sun and produces best results when planted in full to partial sun. These plants are tropical, and therefore are susceptible to death when temperatures reach 30 degrees or lower.

Bring your plant indoors to protect your hibiscus from cold temperatures. The Hibiscus plant can be manipulated in a variety of different ways to keep it the shape and size that fits your needs. In the right conditions, it can reach up to 15 feet tall. To keep your plant maintainable, it is best to prune during the early fall.

The Hibiscus plant is truly a tropical oasis. The trumpet shaped blooms come in a variety of colors and are prolific bloomers from summer all the way to autumn.

If you live in a naturally warm climate, plant your hibiscus in the ground as a beautiful hedge or tree. If you live in a climate that gets cold, simply plant in a pot and adorn your porch, patio, or pool area. Wherever you plant the hibiscus, it is sure to grab the attention of onlookers and bring an exotic feel to your landscape.
| | |
| --- | --- |
| Shipping Restriction | AZ |
| Soil Type | Fertile, Well-drained |
| Sunlight | Full Sun |
| Drought Tolerance | Good |
| Mature Height | 3-4 Feet |
| Mature Width | 2-3 Feet |
| Bloom Color | Yellow |
Shipping Details
Please see the below transit map that specifies an average amount of days after your order has shipped.
FREE Shipping on orders $79+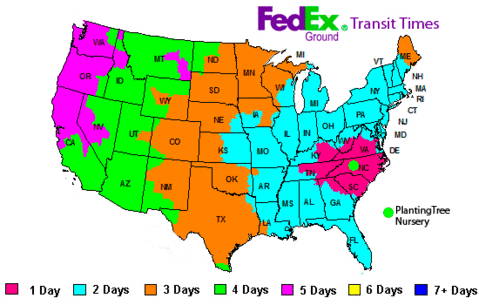 | | |
| --- | --- |
| AMOUNT OF ORDER | SHIPPING COST |
| | |
| | |
| | |
| | |
| | |