Description
Our 5-in-1 Apple tree is a real treat! Can you beat 5 different types of apples on one tree?! This tree is small in stature and self pollinating so you'll only need one tree and not a lot of space for plenty of fruit! Oh, and one more thing...our 5-in-1 Apple tree fruits in the very first year! It all sounds too good to be true, but our 5-in-1 apple tree is very real and very awesome!
The 5 cultivars chosen for this custom grafted tree are Red Delicious, Yellow Delicious, Red Rome Beauty, Lodi, and Stamen-Winesap. These apple types were chosen for their compatibility, productivity, taste, quality, and versatility. These varieties will provide the perfect apples for fresh taste, canning, cooking, baking, cider, and more!
Key Features
Quick gratification. The 5 in 1 apple tree is grafted so it is able to fruit in the very first year after planting.
Variety. You get 5 different apples from one tree. This means an apple for everyone in the family and fruit great for fresh eating, storing, pies, applesauce, and more.
Compact size. The tree grows 10 to 15 feet tall and about 10 feet wide. So it will easily fit in small yards.
Self pollinating tree. Each cultivars' fruit will be enhanced by the cross pollination of the other varieties. This creates better fruit and more abundant production.
Grow your own fruit. When you grow your own fruit you not only save money, but you can grow healthy, organic, clean fruit. You don't have to worry about nasty residues and pesticides like with store bought apples. Our 5 in 1 Apple tree is a neat tool for teaching kids about planting, growing, and harvesting food.
Cultivars
The beloved Red Delicious is great for fresh eating and baking. This firm apple is sweet and a top choice for storage.
The Yellow Delicious is a classic sweet apple with just a touch of tart that kids love to eat right off the tree. It is outstanding for baking, sauces, and preserves.
Red Rome Beauty are crisp, juicy apples. These apples hold their shape when cooked and are ideal for pies and crisps.The fruit is also tasty fresh. This apple is superior for storage.
Lodi is juicy, tart-sweet apple with thin yellow-green skin. This apple is perfect for applesauce, cider, juice, muffins, pies, and freezing. As an early season producer this apple is likely to be the first fruit you notice on your tree.
This cross of Stamen and Winesap apples produces a fruit of exceptional eating quality.
The Stayman-Winesap is a firm apple that is crisp, tart, and rich with aromatic notes of cinnamon. This apple is very versatile. It is delicious fresh or in desserts, applesauce, and cider and is excellent for long term storage.
| | |
| --- | --- |
| Shipping Restriction | AZ |
| Soil Type | Adaptable |
| Sunlight | Full Sun |
| Drought Tolerance | Good |
| Mature Height | 10-15 Feet |
| Mature Width | 6-10 Feet |
| Bloom Color | White-Pink |
How to Care
Spring and fall are ideal times to plant your 5 in 1 Apple tree. If you avoid extreme heat and supplement with extra water you can plant your fruit tree in summer. If the ground is not frozen you can plant your tree in winter.
Apple trees thrive in full sun and well drained soil.
Water deeply when planting and twice weekly for 2-3 months while your tree is establishing. For the first year, we recommend watering deeply once weekly in spring and summer and once monthly in fall in winter after the establishment period. After the first year you will only need to water during dry spells. Always water your apple tree at the base with a hose. Overhead watering encourages fungal infections.
Add a layer of 2 inches of mulch around your newly planted tree. Extend the mulch mound a few inches beyond the root zone. Do not allow the mulch to touch the trunk as this increases the chances of pests and disease.
Feed your apple tree a slow release fertilizer when planting and in spring.
Prune your apple tree in late winter to remove any dead, dying, or crowded branches.
For additional options, be sure to check out our Fruits & Berries and Dwarf tree collection.
| | |
| --- | --- |
| Shipping Restriction | AZ |
| Soil Type | Adaptable |
| Sunlight | Full Sun |
| Drought Tolerance | Good |
| Mature Height | 10-15 Feet |
| Mature Width | 6-10 Feet |
| Bloom Color | White-Pink |
Shipping Details
Please see the below transit map that specifies an average amount of days after your order has shipped.
FREE Shipping on orders $79+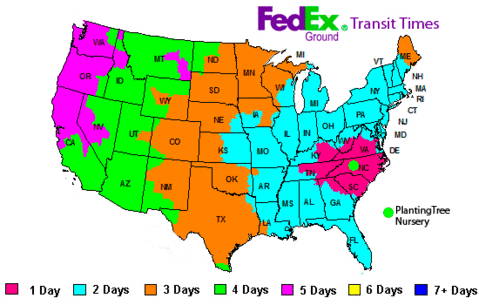 | | |
| --- | --- |
| AMOUNT OF ORDER | SHIPPING COST |
| | |
| | |
| | |
| | |
| | |