Carissa Holly
Ilex cornuta 'Carissa'
Description
The Carissa Holly is a small evergreen shrub that fits just about anywhere in the landscape. It's fairly slow growing so as a hedge it rarely requires pruning. The dense foliage allows this plant to be easily sculpted into shapes, curved borders, and hedges. The Carissa Holly is an excellent substitute for boxwoods.
Key Benefits
Compact shrub. This dwarf holly stay small, only reaching about 3 feet tall and 4 feet wide at maturity. 

No maintenance once established. The Carissa Holly is a hardy holly that stands up to disease, deer, heat, wind, drought, and salinity. This shrub only grows a few inches per year so you'll only need to prune once yearly to keep a tidy hedge.

Year-Round interest. This evergreen shrub stays green all year round! It has delicate white flowers in spring.

Versatile in the landscape. This bush can be kept natural or pruned heavily depending on the effect you want. It is perfect for low growing hedges, borders, mass plantings, mixed beds, and containers. 

Adaptable to the environment. The Carissa Holly is adaptable to various soils and sunlight conditions and is even great for coastal areas.
Pro Tip: Shear uniform borders and hedges in late spring after new growth has emerged for an easy peasy yearly pruning program that will keep your landscape looking tidy and attractive.
| | |
| --- | --- |
| Shipping Restriction | AZ |
| Soil Type | Adaptable |
| Sunlight | Full Sun, Part Shade, Part Sun |
| Drought Tolerance | Good |
| Mature Height | 2-3 Feet |
| Mature Width | 3-4 Feet |
How To Care
Spring and fall are generally the best times to plant the Carissa Holly. But as long as you avoid extreme temperatures and the ground is diggable, you can plant your Holly almost any time of the year. Supplement with additional waterings when planting in summer.
Be sure to choose the appropriate location for your holly bush.
Hollies tolerate full sun to part sun. They prefer a slightly acidic soil, but tend to adapt just about any well draining soil. After planting, adding a layer of 1 to 2 inches of mulch will help keep the soil moist. Mulching is highly recommended in cooler zones to protect the plant's roots in winter as well. Water your holly deeply at the base a couple times a week for the first few months. After hollies are established, they only need watered during hot, dry spells. Fertilize in spring with a slow release fertilizer. Carissa Hollies don't require pruning, but they tolerate it well if you prefer to keep them a certain size. Heavy pruning is best reserved for late winter or early spring.
The best way to prevent disease and pests is by providing the appropriate care for your plants. Proper location choice, watering, and fertilization are the keys to your success. This holly is disease resistant and rarely encounters serious pest problems. Mites and scale can be treated with horticultural oil. For severe infections the pesticide Bonide is recommended. Leafminers can be controlled with spinosad. Avoid planting in wet soil and using overhead watering to prevent fungal issues.
| | |
| --- | --- |
| Shipping Restriction | AZ |
| Soil Type | Adaptable |
| Sunlight | Full Sun, Part Shade, Part Sun |
| Drought Tolerance | Good |
| Mature Height | 2-3 Feet |
| Mature Width | 3-4 Feet |
Landscape Uses
The Carissa Holly is excellent for low hedges and borders. It also looks great in mass plantings and mixed beds. Try it in containers for a look you'll love. This holly is an excellent substitute for boxwoods and can function in the landscape in the same ways. This holly is salt tolerant making it excellent for coastal areas.
Check out our selection of Holly Bushes and Evergreen Shrubs.
| | |
| --- | --- |
| Shipping Restriction | AZ |
| Soil Type | Adaptable |
| Sunlight | Full Sun, Part Shade, Part Sun |
| Drought Tolerance | Good |
| Mature Height | 2-3 Feet |
| Mature Width | 3-4 Feet |
Shipping Details
We plan each shipment to avoid your plants sitting in transit over the weekend during the summer months. This means your order may be held until the following Monday to ensure the shortest delivery time. We guarantee that your plants arrive at the highest quality possible.
Please see the below transit map that specifies an average amount of days after your order has shipped.
Amount of Order
Shipping Cost
Customer Reviews
Filter Reviews:
front yard
condition
WEATHER
company
plants
price
experience
planting tree
some
holly
11/06/2019
Ron
United States
Carissa Holly
Plants ordered were here quickly and in beautiful condition. Planted them 4 days ago (about 1 week after I got them) and they are doing super well. I am extremely satisfied.
10/30/2019
James J.
United States
Good experience--good shrubs!
Good/easy experience in all respects. Will be purchasing more shrubs from Planting Tree in the future.
05/18/2019
Constance B.
United States
carissa holly purchase
I recently bought six Carissa hollies from Planting Tree. In excellent condition, well packed, and looked very healthy. They also got here when expected. I would not hesitate to order from them again. Connie in N.C.
11/11/2018
Mrs. H.
United States
I bought 5 3-gallon Carissa holly shrubs .. sent to my MD home in late October 2018
The 5 Carissa holly plants are excellent, healthy, beautifully shaped and large. We received them promptly and safely, with superb protective packaging at my residence, and we planted within the week. The 5 shrubs are thriving. I highly and completely recommend Planting Tree because their product and communications are superb. From Mrs Heningham G. Kennedy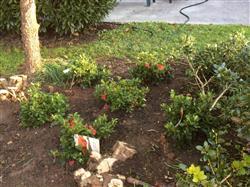 06/26/2018
GwenODaniels
United States
A+ arrival of plants!
I was anxious about the plant came with all the bad weather across the country/ The holly came very moist & packaged very well with only a couple leaves broken off. I hope to have many years of growth from them.