Eastern Redbud
Cercis canadensis
Description
The Eastern Redbud is a perfect tree for any home landscape. Whether you have a small yard to brighten up or a large landscape you want to beautify, this native tree is the right choice.
The Eastern Redbud puts on a show all year long! This small, sturdy tree is one of the first to blossom in the spring. Petite, showy, purple flowers explode all over the tree in clusters. Leaves emerge a shimmering red in spring. During the summer, these heart shaped leaves transform into a dark green. A distinct yellow shines through in the fall. In winter the unique irregular branching and stunning, graceful shape of this tree add landscape interest.
This fast growing Redbud grows up to 2 feet a year. The Eastern Redbud reaches up to 30 feet tall and 35 feet wide, forming a round, dense vase shape.
Key Features
Outstanding magenta blooms. There isn't a better way to welcome spring than watching an Eastern Redbud bloom in your yard. This tree is coated with beautiful purple flowers in early spring. Goodbye, winter. Hello, spring!

Native tree. Enhance your yard and enrich the environment by planting this indigenous tree. The birds, hummingbirds, butterflies, and bees will thank you with their presence and extra pollination. Native trees also require less fertilizer, water, pesticides, and care!

Adaptable. Eastern Redbuds adapt to any well-draining soil and can grow in sun or shade.

Low maintenance. Once established Redbuds, require little to no care. They are drought tolerant and disease resistant.

Strong and hardy flowering tree. Due to its adaptability and hardiness the Eastern Redbud can grow in a variety of climates. This Redbud is a sturdy tree with a deep root system. It is very resistant to storm, ice and wind damage.
You can't go wrong with the native Eastern Redbud check out the facts!
| | |
| --- | --- |
| Shipping Restriction | AZ |
| Soil Type | Adaptable |
| Sunlight | Full Sun, Part Shade, Part Sun |
| Drought Tolerance | Good |
| Mature Height | 20-30 Feet |
| Mature Width | 20-30 Feet |
| Bloom Color | Purple |
How To Care
When planting your Eastern Redbud be sure you have the right location and conditions for your new tree to thrive. Spring and fall are ideal times to plant. However, if you avoid extreme temperatures you can plant almost any time of the year.
Redbuds are very easy to grow and low maintenance. These trees tolerate full sun to part shade and are adaptable to any soil as long as it isn't saturated. Water your new Redbud deeply about twice a week for the first couple months. After establishment, this flowering tree is drought tolerant. In extended drought periods this tree will benefit from a weekly deep watering. Add a layer of mulch around the base of the tree that extends a few inches beyond the root zone. Do not allow the mulch to touch the trunk as this increases the chances of pests and disease. Fertilize in early spring and when planting to give your tree a boost. Choose a balanced, slow release fertilizer. Redbuds don't generally require pruning, but if needed, prune immediately after blooming has ceased to remove any dead, dying, crowded or crossed branches. Pruning Eastern Redbuds in winter is likely to cause bloom loss.
The best way to prevent disease and pests is by providing the appropriate care for your plants. Proper location choice, watering and fertilization are the keys to your success. Avoid problems with Borer insects by ensuring your tree remains free from damage, especially from lawn equipment. Mulching helps to keep weeds at bay which eliminates the need to use lawn equipment near your tree. Borers look for a hole or weak spot to penetrate. Scale is an immobile insect that can affect almost any tree. You can treat this pest with horticultural oil. Be sure to coat the entire tree.
| | |
| --- | --- |
| Shipping Restriction | AZ |
| Soil Type | Adaptable |
| Sunlight | Full Sun, Part Shade, Part Sun |
| Drought Tolerance | Good |
| Mature Height | 20-30 Feet |
| Mature Width | 20-30 Feet |
| Bloom Color | Purple |
Landscape Ideas
Redbud Trees can be planted almost anywhere in your yard. They are one of our favorites!  The showy blooms will mesmerize you in the spring. Want a different color? Try the Royal White, Forest Pansy or Oklahoma Redbud trees.
If you have a natural area off to the side of your home, this is a great spot for this small shade tree.  Plant 1 or 2 in your front or back yard. They can be used as a focal point in the yard. Enhance this tree's beauty with uplighting. 
Redbuds go very well with most other colors in the landscape.  Plant some kaleidoscope abelia under the tree for some beautiful yellow and gold colors. Junipers also work well for color contrast.  The blues and greens pair well with the purple pink fluorescent blooms! 
This tree is great for planting in a bed or at the side of your home. Redbuds look great planted in groups of three in a corner of your yard. Add some uplights and they will look great at night too!
Redbud Trees go just about anywhere. Just make sure that you can see it from your window, patio, or deck so you can watch it bloom and grow!
 For additional Redbud options be sure to check out our  Rising Sun Redbud Tree  and the Redbud Tree Collection. 
| | |
| --- | --- |
| Shipping Restriction | AZ |
| Soil Type | Adaptable |
| Sunlight | Full Sun, Part Shade, Part Sun |
| Drought Tolerance | Good |
| Mature Height | 20-30 Feet |
| Mature Width | 20-30 Feet |
| Bloom Color | Purple |
Shipping Details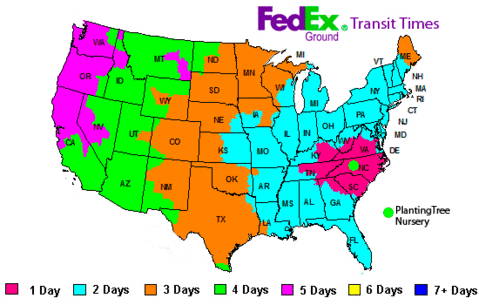 Shipping transit map specifies an average amount of days after your order has shipped.
| | |
| --- | --- |
| AMOUNT OF ORDER | SHIPPING COST |
| | |
| | |
| | |
| | |
| | |
| | |
| | |