Miniature Christmas Tree - Blue Point Juniper
WESTCOAST - Order by DEC 17th to receive before Xmas!
All other areas Order by Dec 19th
Description
The Blue Point Juniper makes the perfect gift for the holidays and will liven up any space in your home. A true beauty that will grow for years to come. The Blue Point Juniper seems to be an excellent choice for the holiday season this year, pick your favorite live miniature Christmas tree that would fit nicely in in your home.
This miniature Christmas tree can be used in a variety of areas throughout the home or yard. It's great for on each side of a window to soften up the appearance of your house and add height to your landscape. Put your Blue Point Juniper on a tabletop or a main window with sunlight and allow the window to enhance its color.
How To Care
A Juniper miniature Christmas tree thrives in full sun to part sun and adapt to any soil that is well drained. They do like a neutral to acidic soil so if you know you have an alkaline soil choose an acidic fertilizer (most fertilizers for evergreens are acidic). Junipers are great "street shrubs" as they tolerate pollution and salt well. After planting, adding a layer of 2 to 3 inches of mulch will help keep the soil moist.
*This tree comes in 1-2Ft. Size
For additional Miniature Christmas Tree options, browse our Tabletop Christmas Trees
Customer Reviews
Write a Review
Ask a Question
Filter Reviews:
TREE
condition
vitamin fertilizer
biggie
Juniper Christmas Tree
ornament
planting soil
star review
aunt
noni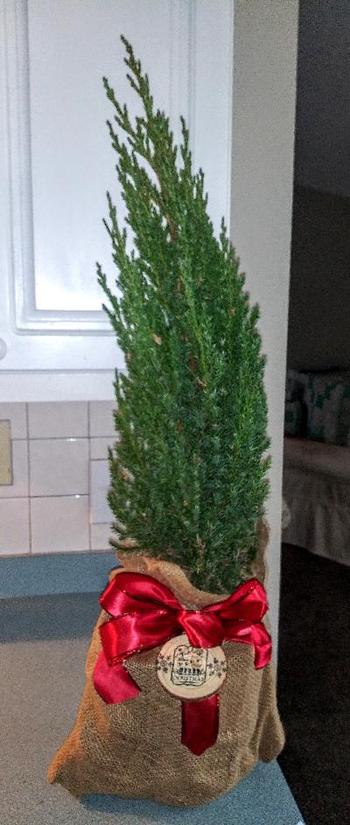 01/20/2021
Juniper Miniature Christmas Tree - Just Perfect!
Here is another 5 star review! I would give 10 stars if I could! I just adore everything about the Juniper Miniature Christmas Tree that I ordered with you guys! The burlap fancy wrap and the big red bow and the wooden ornament attached just too cute. The most important thing, is the Juniper Christmas Tree arrived in super perfect shape and in great health. It did arrive a little crooked but straightened right up in a few days. No biggie. I also ordered your time release vitamin fertilizer, and I am happy to enrich my planting soil for my little tree! I am very impressed with Planting Tree and I cannot wait to order again from you all.
Debi

United States
01/12/2019
Satisfied from MN
Good online ordering. Product came in good condition. Just need to keep it healthy until it can be planted outside.
12/01/2018
So cute
Such a nice little tree. Excited for my aunt to plant it this spring.
11/29/2018
Great Gift Idea
I just sent one of these to my noni. She was excited. She said she can't wait to plant it and it came looking perfect.